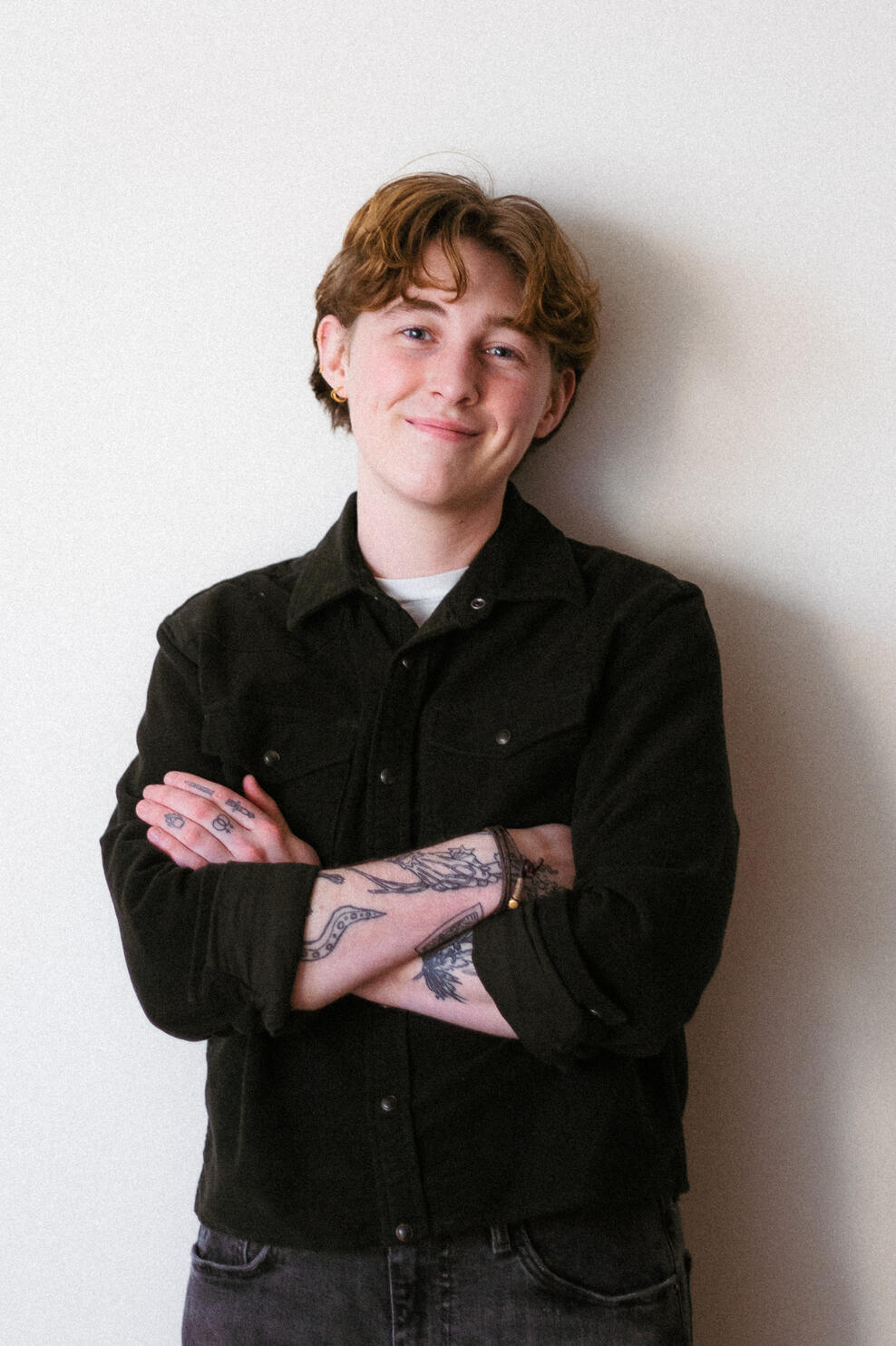 "Aren't you a little young to be doing all this?" "Yes, yes I am."
- Phineas and Ferb
I'm Newton Schottelkotte (they/them), but most folks call me Newt. I started my first podcast, a sci-fi sitcom called Inkwyrm, when I was fifteen years old, and since then the worlds of podcasting and theatre have been my home. I founded the podcast production company Caldera Studios, through which I've produced two more shows: the award-winning supernatural fantasy Where the Stars Fell, and the how-to podcasting guide for young creators, Mini Marconis.I'm also one of those gosh-darn multihyphenates, which means I've had the opportunity to work in a variety of roles, from sound to production to marketing, for companies like Bloody Disgusting, The Chautauqua Institution, Fable and Folly, Descript, Simplecast, The Smithsonian, and more.I'm currently based in Chicago, hunting for the best bagel with lox in town and starting every design pitch with, "So we'd need more subwoofers, but...".You can reach me at newtschottelkotte@gmail.com. Let's make something cool together.
Original Productions
WHERE THE STARS FELL, Caldera StudiosIn a mysterious Oregon town, the antichrist and her guardian angel are forced to work together to stop the religious rapture— but they don't know any of that yet. An award-winning fiction podcast about identity, agency, and making your own Plan.
MINI MARCONIS, Caldera StudiosA been-there-done-that miniseries about how to be a fiction podcaster while still being a kid, from a seasoned creator who– quite literally– grew up in the industry.
INKWYRM, Caldera StudiosThe workplace shenanigans of a fashion magazine in the distant future, shamelessly pulpy and always queer.
Marketing
Fable and Folly, Director of MarketingI maintain social media accounts and our newsletter, implement community engagement and outreach projects, and promote network creators and initiatives.
Chautauqua Theater Company, Digital and Print Marketing AssociateI developed social media content and maintained the company's online presence, created promotional graphics, newsletters, and other brand materials, collaborated with the on-site cast and crew for content creation, and sold merchandise and provided customer service during company productions
Good Tape, Marketing CopywriterI provide social media copy to post directly to their accounts (Twitter, LinkedIn, Instagram), and suggest visual assets to accompany posts.
Selected Sound Design
Caldera Studios, Sound Designer/EngineerSound designer and recording engineer, including dialogue edit and full design, mixing, and mastering, for all Caldera Studios projects.
AS MUCH AS I CAN, A1A1 for Chicago leg of the tour, including mixing and nonlinear midi cue firing.
EMMET OTTER'S JUG BAND CHRISTMAS, A2A2 for Chicago production in the Studebaker Theater, including microphone, video feed, and IEM maintenance and monitoring, as well as additional stagehand duties.
CABARET with Middle Tennessee State University, Sound Designer/A1Spring 2023 production of CABARET; footage available upon request.
Cue Sheet. Input Sheet.
Better Lemon Creative Audio, Senior ProducerMy projects included Articulated, Transitional Justice In America, The Vagina Museum, and more, performing sound design and editing, audio cleanup and repair, and transcription via Descript.
WEAVER, Sound DesignerSound designer and recording engineer, as well as provided production consultation for a first-time showrunner with my years of industry experience.
TWO FLAT EARTHERS KIDNAP A FREEMASON, Sound DesignerSound designer for episodes 1x07 and 1x11, including dialogue edit and full design, mixing, and mastering.
Scribd, Audiobook Narrator and EditorNarrated, engineered recordings of, edited, mixed, and mastered multiple audiobooks for the Scribd library.
Music
Bloody Disgusting, Songwriter/ComposerLead concept album production and composed multiple songs for the soundtrack of RE: DRACULA including Bite and Inside You. Lead composer on THE DEAD. Wrote and composed Cut Me Up for MAYFAIR WATCHERS SOCIETY.
Caldera Studios, Songwriter/ComposerLead songwriter and composer for music produced for Caldera Studio's various projects, including Here With You, Blood On Your Shoes, and more.
Writing
OUT THERE, Episode 4x04, Queer in Appalachia"As a nonbinary person, Newt Schottelkotte never felt at home in Appalachia. But then, they went on a road trip with their dad. Driving through the Blue Ridge Mountains, something started to shift. This is a story about figuring out how to be yourself without abandoning where you're from."
JOY TO THE WORLD, Episode 1x11, Chutzpah For the Holidays"Joy to the World follows Joy, an astronaut alone on the ISS, as they take calls from around the world on a lonely Christmas Eve. It's about end-of-year holiday spirit in general, exploring different experiences of what makes this time of year special." In this episode, Joy encounters a mechanic in NYC stressed about meeting her girlfriend's parents.
24 HOUR HUBRIS, Episode 3x01, Ghost Light"On the eve of the opening night of their play, playwrights Ilya and Ross argue about who should fix the problem spotlight in their theatre, the purpose of art, and whether or not tour groups about the ghostly nature should really be allowed in the theatre before opening night."
Selected Articles
Growing Up In Podcasting, Literally, Sounds ProfitableAfter graduating from college, I reflected on over half a decade spent growing up in the podcasting industry, how far I've seen us come, and where we can go from here.
How To Crowdfund Your Podcast, Vocal FryA top-to-bottom guide for crowdfunding your podcast, from pacing yourself to creating rewards that are fan-pleasing and headache-free.
Scene blocking and staging: How fiction podcasts keep your ear on the action, DescriptI share the two key tools to designing engaging, easy to follow sequences in your fiction podcast.
Educate vs. Empower: Disability Representation in Fiction Podcasts, SimplecastA deep dive into the current state of how, and how much, fiction podcasts are creating representation for people with disabilities, and what it means to me as a disabled person.
Your podcast probably needs a sensitivity reader. Here's how to use one, DescriptA guide to what sensitivity readers are, how to use them, and why they are so necessary to good journalism, fiction, and beyond.